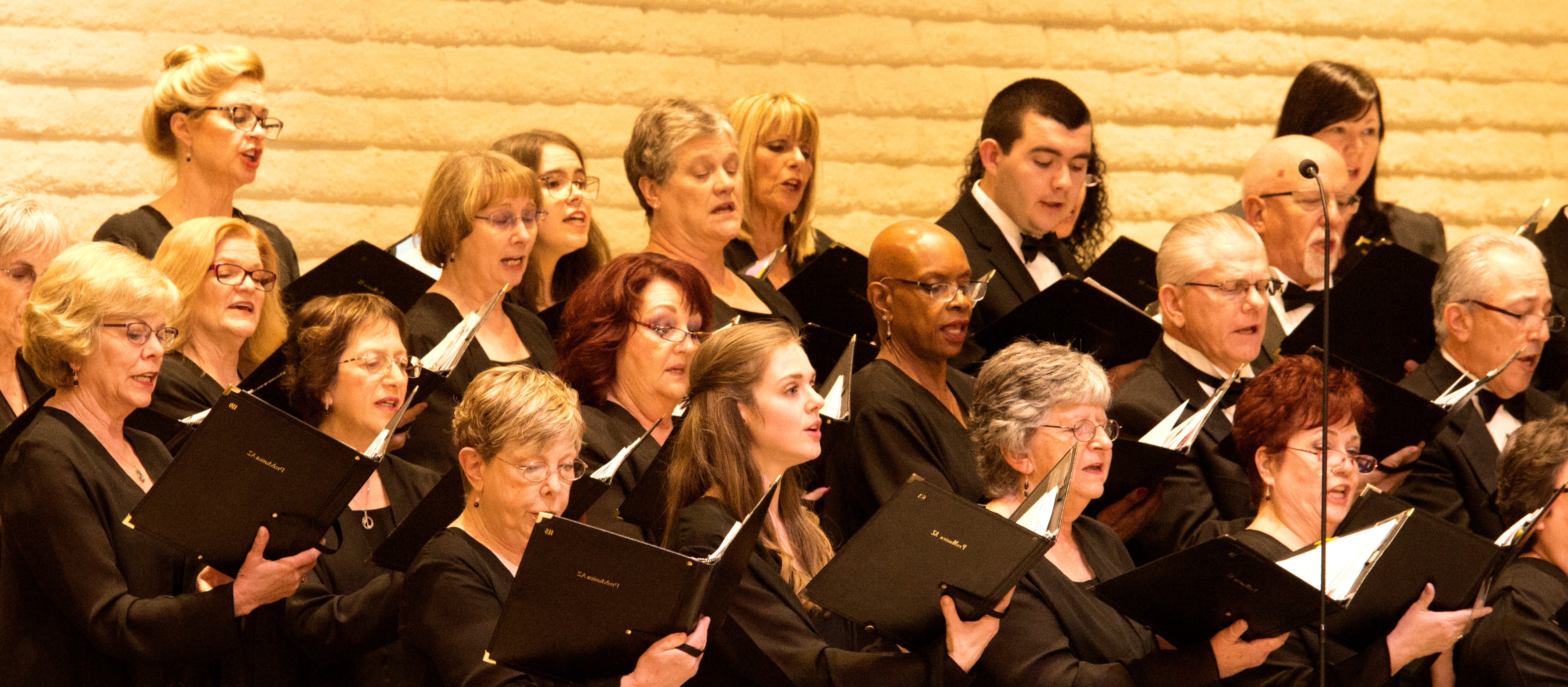 About Us
ProMusica Arizona's mission is to enrich lives in the greater Phoenix area, with focus on the North Valley, through innovative, joint performances of its multigenerational chorale and orchestra.
Since its founding in 2003, ProMusica Arizona Chorale and Orchestra (PMAZ) has become a leader in bringing live music to audiences in the Phoenix North Valley. With more than 100 singers and instrumentalists ranging in age from teens to 80s, the group has performed over 150 times for nearly 125,000 people in venues across the Valley, including the Orpheum Theatre, Herberger Theater Center, Scottsdale Center for the Performing Arts, Camelback Bible Church, American Lutheran Church of Sun City and Boulder Creek Performing Arts Center.
Innovation and variety characterize the group's concert season, which includes musical genres ranging from classical to contemporary, semi-staged Broadway favorites and creative collaborations with partners such as Video Games Live™ and its "click track" technology. In 2013, PMAZ performers were joined on stage by Elizabeth Pitcairn and her famous instrument, the 1720 Stradivarius Violin which served as inspiration for the Academy Award-winning movie, The Red Violin. PMAZ singers concluded the 2016-17 and 2017-18 seasons with concerts at Carnegie Hall in New York City along with other exclusive invitees from around the country.
PMAZ is committed to providing participatory community music programs with a policy of attracting talented musicians in every age group. We provide a supportive environment for members to share their love of music and present outstanding concerts to the public at affordable ticket prices.
ProMusica Arizona Chorale & Orchestra is a 501(c)(3) non-profit organization and has achieved resounding success due to the dedication of the members and superb community support. PMAZ is a proud member of Chorus America, League of American Orchestras, Anthem Area Chamber of Commerce, Carefree/Cave Creek Chamber of Commerce and West Valley Arts Council.